31: Security and Privacy of Information and IS
Track Description
Theme
Past decade has been marked by the exponential growth in the amount of collected data and the accompanying information processing in both public and corporate sectors. In addition to "traditional" forms of data collection by organizations, data-intensive Social Media platforms have contributed greatly to the rising vulnerability of users, adding new "quality" to the data that can be accessed and used by third-parties worldwide. Indeed, with millions of data items shared every week on Facebook and other Social Media platforms, the scale of social information available is breath-taking. Additionally, increasing use of smartphones has spurred the unprecedented growth of mobile applications that allow for a new location-based view on user behavior. Overall, this growing volume of data generated across multiple channels presents significant security and privacy challenges. Both businesses and public organizations increasingly face these risks as more and more data on customers and citizens is collected, interconnected, and processed. Recognizing these vulnerabilities, this track seeks contributions that address these rising concerns over privacy and security. We especially encourage research that focuses on the emerging Social Web applications. All methodological approaches are welcome, including, but not limited to experimental studies, qualitative studies, case studies, as well as conceptual papers. Full and research-in-progress papers can be submitted to this track.
Types of Contributions
Possible topics include, but are not limited to:
Privacy and Security in Social Media
Privacy and Security in Mobile Web
Privacy and Security in E-Commerce
Privacy Perceptions and Behavior
Intercultural Perspective on Privacy and Security
Gender Perspective on Privacy and Security
Privacy: Attitude-Behavior Gap
Assessing the Value of Privacy
Monetizing Privacy and Trust
Behavioral Economics of Security and Privacy
Privacy-Enhancing Technologies
Employee Security Policy Compliance
Cybercrime and Security Violations
IT Security Threats and Challenges
IT Security Audit and Control
Metrics for Security and Privacy
Critical Infrastructure Protection
Security Risk Analysis
Management of User Risky Behavior
NeuroIS: Security and Privacy
Legal and Social Aspects of Security and Privacy
Track Chairs
Hanna Krasnova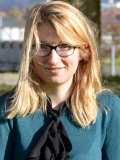 Dr. Hanna Krasnova is an Assistant Professor in Information Systems at the Universität Bern, Switzerland. Hanna has got her Habilitation and doctoral degree from the Humboldt-Universität zu Berlin. She also holds Master of Science Degree in Banking and Finance from the Belarus State University as well as Master of Arts in Economics and Management Science from the Humboldt-Universität zu Berlin. In her research she addresses the issues of social, individual and enterprise value of the emerging Social Media applications, with a particular focus on privacy. She is the author of over 25 research articles published in the Journal of Information Technology, Journal of Wirtschaftsinformatik, Identity in the Information Society Journal, International Conference on Information Systems as well as other IS conferences. Her recent research about Facebook envy has been awarded the Best Paper Award at the International Conference on Wirtschaftsinformatik in February 2013 and has been covered by all major news outlets worldwide, including YAHOO!, CNN, NBC, and over a hundred other outlets in numerous countries around the globe.
Tamara Dinev
Dr. Tamara Dinev is a professor and chair of the Department of Information Technology and Operations Management (ITOM), College of Business, Florida Atlantic University, Boca Raton, Florida. She received her Ph.D. in Theoretical Physics in 1997. Following several senior positions in information technology companies, her interests migrated to management information systems research, and in 2000 she joined the Florida Atlantic University ITOM faculty. Dr. Dinev is actively involved in research on information privacy, trust in online vendors, multicultural aspects of information technology usage and online behavior, and individual/employee behavior regarding computer and information security. She has published in premier and top journals, including MIS Quarterly, Information Systems Research, Decision Sciences, Journal of the AIS, Journal of Strategic Information Systems, European Journal of Information Systems, Information Systems Journal, Communications of the ACM, International Journal of Electronic Commerce, Journal of Global Information Management, e-Service Journal, Behaviour and Information Technology, Electronic Government, and others. She has received numerous best paper awards and nominations at major information system conferences. Dr. Dinev is an Associate Editor of European Journal of Information Systems and has served as Guest Associate Editor of MISQ on multiple occasions.
Peter Buxmann

Dr. Peter Buxmann is a professor of Software Business & Information Management at Darmstadt University of Technology. He received his Doctoral Degree from the Frankfurt University and afterwards worked at Frankfurt University and as a visiting scholar at the Haas School of Business, University of California in Berkeley. Dr. Buxmann is a member of the Executive Board of the House of IT where he is responsible for interdisciplinary research and collaboration between industry and science, as well as entrepreneurship and IT startups. Peter Buxmann is the author of more than 200 publications, including studies published in Journal of Product Innovation Management, Information Systems Journal, European Journal of Information Systems, Journal of Information Technology, Wirtschaftsinformatik / Business Information Systems Engineering. His research fields include Software Business, Future Internet Economy, and Information Management, with a focus on privacy and security challenges.
Associate Editors
Anthony Vance, Brigham Young University
Bart Knijnenburg, University of California, Irvine
Ben Fabian, Humboldt-Universität zu Berlin
Christine Bauer, Wirtschaftsuniversität Wien
Cindy Riemenschneider, Baylor University
Edgar Whitley, London School of Economics and Political Science
Gaurav Bansal, University of Wisconsin - Green Bay
Günter Müller, Albert-Ludwigs-Universität Freiburg
Jai-Yeol Son, Yonsei University
James Parrish, Nova Southeastern University
Jens Grossklags, Pennsylvania State University
Jin Gerlach, Technische Universität Darmstadt
John D'Arcy, University of Delaware
Mathias Klier, Universität Regensburg
Natasha F. Veltri, University of Tampa
Paul Benjamin Lowry, City University of Hong Kong
Rainer Böhme, Westfälische Wilhelms-Universität Münster
Shin-Yuan Hung, National Sun Yat-sen University
Suparna Goswami, Technische Universität München
Thomas Widjaja, Technische Universität Darmstadt
Till Winkler, Copenhagen Business School
Yair Levy, Nova Southeastern University