10: Enterprise Modeling
Track Description
Theme
The purpose of this track is to focus on a core topic in business and information systems en- gineering research. Enterprise modeling is an established approach for the conceptual rep- resentation, design, implementation and analysis of information systems and has gained much attention in academia as well as in industry.
Enterprise modeling is today of primary importance to develop, analyze and deploy infor- mation systems that operate in today's user-driven world with massive amounts of ex- changed information. It contributes with the conceptualization, implementation, and use of machine processable languages to facilitate the interaction with complex business and tech- nological scenarios, engage in knowledge management and support organizational engineer- ing. In addition, the development of reference models for selected domains, the design of generic models for enterprise architecture management, and the development of modeling tools are investigated.
In this track the discussion shall be fostered both on the foundations and applications in en- terprise modeling, as well as on the model-based development and evolution of enterprise- wide IS from a conceptual / business perspective. For the description of innovative and rigor- ously elaborated research results a wide variety of research methodologies are welcomed including but not limited to design science research, mathematical modeling, simulation, case studies, as well as empirical approaches.
Types of Contributions
Possible topics include, but are not limited to:
Possible topics include, but are not limited to:
Design, implementation, and application of enterprise modeling methods
Formal methods for enterprise modeling
Enterprise modeling platforms & tools
Business and IT requirements for enterprise modeling
Conceptualization and modeling in enterprise architecture management
Enterprise modeling for IT-Governance
Enterprise modeling and knowledge management
Reference modeling
Advancements in Open Models
Collaborative enterprise modeling
Modeling in agile development environments
Evaluation and quality assurance of artifacts in enterprise modeling
Crowdsourcing for enterprise modeling
Best practices and use cases
Track Chairs
Dimitris Karagiannis <primary contact>

Dimitris Karagiannis is full professor and head of the Research Group Knowledge Engineer- ing at the University of Vienna, Austria. He is a co-editor of the BISE journal and member of the editorial board of Enterprise Modelling and Information Systems Architectures. His fields of expertise include enterprise modeling, business process management, and artificial intelli- gence. He recently co-chaired the Enterprise Modeling and Enterprise IS track at MKWI'2014 and co-organized the German-speaking conference Modellierung 2014 in Vienna, Austria.
Barbara Pernici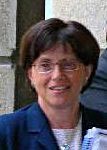 Barbara Pernici is full professor of Computer Engineering at the Politecnico di Milano. She has a doctor in engineering degree (laurea) from the Politecnico di Milano and a MS in Com- puter Science from Stanford University. Previously she was full professor at the University of Udine (1990-1993) and associate professor at the Politecnico di Milano (1987-1990). Her research interests include workflow information systems design, cooperative information systems, adaptive information systems, service engineering and web services, data quality, and computer based design support tools, energy efficiency in information systems.
Brian Donnellan
Brian Donnellan's teaching and research interests lie primarily in the area of innovation sys- tems, which encompasses how information systems can be used to support innovation, new product development and technology management. Prior to joining NUI Maynooth, Prof. Brian Donnellan was a faculty member in the Cairnes Postgraduate School of Business and Public Policy, National University of Ireland, Galway. Before joining academia, Brian spent 20 years working in the ICT industry. While in industry, he was responsible for the provision of information systems to support New Product Development.
Associate Editors
Xavier Boucher, Ecole Nationale Supérieure des Mines de St. Etienne
Luis Camarinha-Matos, Universidade Nova De Lisboar
Georgios Doukidis, Athens University of Economics and Business
Hans-Georg Fill, University of Vienna
Igor Hawryszkiewycz, University of Sydney
Dimitris Kiritsis, EPFL Lausanne
Pericles Loucopoulos, Loughborough University
Heinrich C. Mayr, University of Klagenfurt
Oscar Pastor, Universidad Politecnica de Valencia
Claudia Pons, University of La Plata
Jan Vanthienen, Katholieke Universiteit Leuven
Francois Vernadat, INSA Toulose
Stanislaw Wrycza, University of Gdańsk
Yoshinori Hara, Kyoto University
Eric Yu, University of Toronto
Jelena Zdravkovic, Stockholm University
Additional Information
Arrangement with the BISE Journal
The best papers accepted for the track will be invited to submit extended versions to the BISE Journal in the Department Enterprise Modeling and Enterprise IS, which is chaired by Dimitris Karagiannis and Robert Winter.