Take some time and discover Münster's historic sites
Our hidden treasure from Friday, April 24, 2015 suggested by Markus Monhof.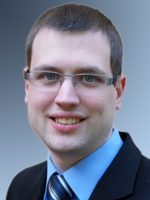 Researchers – like you and I – sometimes seem to live a bit in the future, always imaging new things, having great visions. However, now and then it's healthy to look back and discover the past. Münster offers great opportunities to discover and experience its versatile history. Simply take some time, grab a bike, and - as you are in Münster - cycle through the historic city center. I'm sure you'll discover some well known places, like the Prinzipalmarkt or the cathedral (Münster has no Münster), but also less known, like the statue of Bernhard Overberg. You'll definitely find some spots you enjoy. If your German is not too bad, watch out for the sings and you additionally will learn something new.
Afterwards you might consider also visiting another, less known, historical site: The roughly 115 years old cavalry barrack "Von-Einem-Kaserne". Today known as Leonardo-Campus and the home of the local IS researchers. We would be pleased to welcome you.
Show me, show me, show me!!!
Where to find this gem
Show on Google Maps
See a list of all the other ToWs that have been published until now.