Ten Days to Go... Write if you can!
Ten Days to Go... Write if you can!
---
Ten days before the end of the submission deadline, you are hopefully working hard on finishing your ECIS paper. What else is there to do? If you still have no idea for a nice little paper, it's now officially time to panic!
But honestly… saving your ideas for other upcoming conferences is not an option this time. You know that Münster is perfect for ECIS 2015 and your paper! Just see all the ToWs we offer! So, pull yourself together and write! In case you are running out of time, I have some ultimate advice for random cuts (not to be taken too serious).
Cut the content!
Carefully review the contents of your paper. Do you really need the second paragraph of your background section …well… who needs a background section at all? This will probably reduce the chance to get an "accept", but after all, your chances will be better than in the Journal of Universal rejection. At least you can maintain your dream to come to Münster until decision letters in February 2015. And still, by then – come to Münster and have a drink during the various social events while your fellow colleagues still practice their talk!
Cut the method!
No research is perfect, so isn't yours. Explain in the method section, why it was impossible for you to finish the paper properly, pointing out why you nevertheless ultimately deserve the travel to Münster. Afterwards, you may share your approach as overly honest method.
Cut the sleep!
The Internet is full of advice how to stay awake. Drink water, add a little coffein, eat well, avoid distraction, and hire somebody that constantly wakes you up. In the end, the easiest way to stay awake is NOT TO SLEEP! For ECIS 2016, you may recapitulate your findings in an action research paper.
Please share your advices or experiences on twitter with #ECIS2015 and #deadlineApproaching. And now, Go! Write, write, write, eat, drink, write, write, write, drink, write, write, eat, sleep, write!
---
About the author: Sebastian Köffer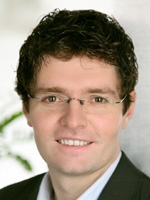 Sebastian works as a research assistant at the European Research Center for Information Systems (ERCIS). Currently, he is in "writing mode" to get his paper ready for ECIS 2015. His Twitter account is @koeffi.
If you would like to know more about the author, check out the
author's website
.